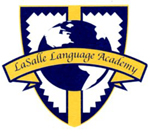 Both classes of sixth graders (32 kids in each class) at LaSalle Language Academy in Chicago will be skipping class (with teachers and parents, of course) to join me for a one-hour mid-week parkour workshop (outdoors and away from the school) for three weeks - starting next Thursday, April 18, 2013.
Teachers have already started prepping the students with videos and other materials. Very excited to get these kids introduced to the discipline.
LaSalle sixth graders... get ready to work harder than you ever imagined you could or would during school hours. ;)
I'm excited to work with LaSalle Language Academy, especially after reading their mission statement:
"The LaSalle Language Academy community will create an environment that inspires in every child a love of learning, global understanding and respect for the uniqueness of each individual. LaSalle will develop graduates who are life-long, resourceful learners, and reflective, contributing citizens of the world."
Being a globally growing discipline, parkour definitely inspires one to learn about their body, their mind, their role in society and the world, and about other communities and cultures across the planet. Some of the common mottoes in parkour, "Être fort pour être utile" ("Be Strong to Be Useful", adopted from
Georges Hébert
) and "Être et Durer" ("To Be and To Last") seem to align perfectly with the Academy's desire to create those life-long, contributing citizens.
Would you like Parkour Ways to come to your school or facility and put on some workshops? Send an email to kurt@parkourways.com with your inquiries.